Announcements and Reminders
There is a 6:30 dinner before the Royal Arch Chapter Stated meeting.

Knight's Templar is selling coins for charity for $10 each. Contact Joe MacIntyre.

Contribute to the Heart Fund, the Medical Research Fund, and the Eye Founda- tion as best you can.

Please keep the first Monday of the month clear for degree or meeting practice.

Practice your parts! Official Visits started early this year. There is also a rumor that there will be multiple Official Visits to keep us on our toes!

Convocations: Fourth Monday of each Month Dinner at 6:30 pm Meeting at 7:30 pm
Assemblies: Third Monday of each Month Meeting at 7:30 pm
Conclaves: Second Monday of each Month Meeting at 7:30 pm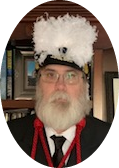 Sir Knight E. Jeffrey Craig, Most Reverent Right Eminent Grand Commander of the Grand Commandary of Knights Templar of Washington, will be making his Official Visit to
Malta Commandary 18
on
December 10, 2018
Dinner at 6:30 p.m., Meeting at 7:30 p.m.
Site Map
Note: Some links may not be active.