Announcements and Reminders
There is a 6:30 dinner before the Royal Arch Chapter Stated meeting.

Knight's Templar is selling coins for charity for $10 each. Contact Joe MacIntyre.

Contribute to the Heart Fund, the Medical Research Fund, and the Eye Founda- tion as best you can.

Please keep the first Monday of the month clear for degree or meeting practice.

Practice your parts! Official Visits started early this year. There is also a rumor that there will be multiple Official Visits to keep us on our toes!

Coming Events
Convocations: Fourth Monday of each Month Dinner at 6:30 pm Meeting at 7:30 pm
Assemblies: Third Monday of each Month Meeting at 7:30 pm
Conclaves: Second Monday of each Month Meeting at 7:30 pm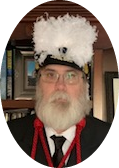 Sir Knight E. Jeffrey Craig, Most Reverent Right Eminent Grand Commander of the Grand Commandary of Knights Templar of Washington, will be making his Official Visit to
Malta Commandary 18
on
December 10, 2018
Dinner at 6:30 p.m., Meeting at 7:30 p.m.
Welcome
The York Rite is one of the oldest Masonic bodies and the name originates from York of England. It consists of three parts:

the Royal Arch Chapter (including Olympus Chapter 27),
the Council of Royal and Select Masters (including Naval Council 11), and
the Knights Templar Commandery (including Malta 18).

Members of York Rite are Masons and it is there we tie into Masonry. To be a member of Knights Templar, the candidate must be a Christian.

The Royal Arch Chapters contribute to the Children's Heart Foundation. The Councils of Royal and Select Masters contribute to the Medical Research Foundation (for diseases effecting the blood vessels). The Knights Templar Commanderies contribute to the Knights Templar Eye Foundation.

Refer to the Links page in the menu for information concerning the Grand Chapter of Royal Arch Masons of Washington, the Grand Council of Royal and Select Masters of Washington (also called Cryptic Masons), and the Grand Commandery of Knights Templar of Washington.

We meet in the Victory Memorial Temple in Bremerton, WA. The Commandery meets on the second Monday; the Council meets on the third Monday, and the Chapter meets on the fourth Monday of the month. We do not meet in July or August. We look forward to seeing you there!